:: Jekyll / AdSense / Amazon SES
After 6 months working with WordPress.com to create a site themselves, the author of Chicago Gang History wasn't seeing the kind of traffic they'd hoped for despite all their hard work. In fact, before I found them, Chicago Gang History had had less than 1,000 total visitors—after six months!
Upon examining their content I found a treasure trove of niche content which simply needed a little love. Confident I could improve their online presence I made Chicago Gang History an offer they couldn't refuse.

After committing to work with us I registered Chicago Gang History a new domain name, migrated their content, overhauled their SEO and worked with them to redevelop and relaunch in 6 days.
Audience Growth
During their first six months with Comfusion Chicago Gang History experienced healthy audience growth even without social media. Leveraging organic traffic I grew their online presence from less than 200 users per month to over 18,000.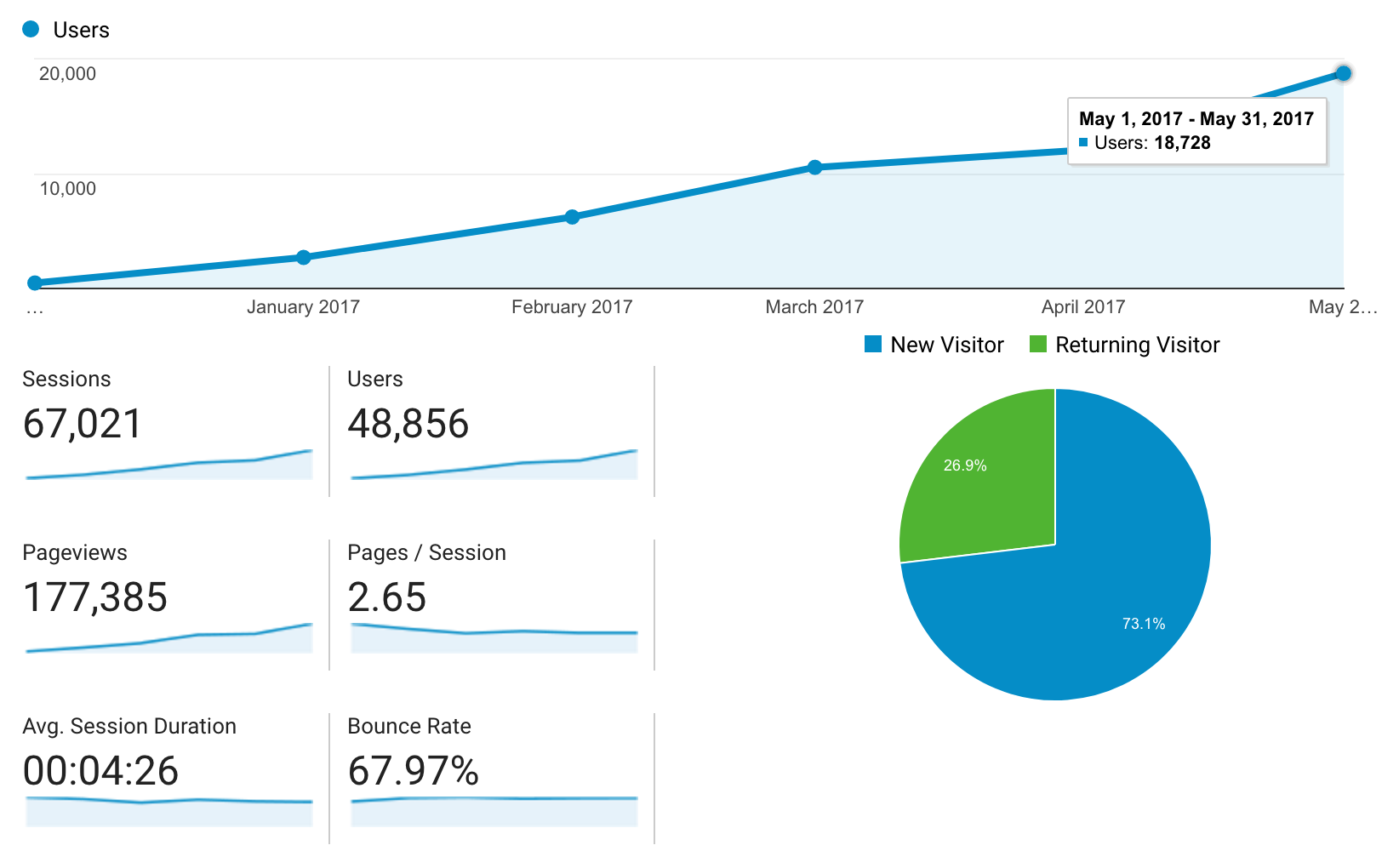 Total visitors during first 6 months: <1,000
Total visitors 6 months after Comfusion redesign: 48,856
Traffic from SEO
Thanks to a large amount of unique content, a well structured information architecture and structured data SEO made growing the user base an organic affair, enabling the author to work on creative writing and making small site adjustments as opposed to social binging, as shown here:

I measured how quickly Google noticed the site and started sending new users. Here's how many came in, and how fast it happened:
43 days after launch, over 50 new organic users per day
53 days after launch, over 100 new organic users per day
79 days after launch, over 200 new organic users per day
97 days after launch, over 300 new organic users per day
151 days after launch, over 500 new organic users per day
Accolades
Began generating revenue within first three weeks
Started turning profit in less than 2 months
Reached Page 1 of Google 37 days from launch for primary key phrase
Receives 75% of its traffic from mobile and tablet
Website has been mentioned in the news
Services provided
Identity protection for domain owner
Domain name procurement and management
Site migration from WordPress
Web design, development, hosting and maintenance
Client portal to add, edit and remove site content
SEO, launch marketing and growth consulting
Website monetization with transparent reporting
Features
Over 250 pages of niche content and media
Responsive design optimized for phone and tablet
Realtime analytics and user monitoring
Cloud CMS integration and CDN performance optimization
Revenue-generating ads and user-specific related content
Custom contact form and cloud-based email forwarding
Newsletter integration for engagement and user retention
Testimonial
I first created my site on WordPress and everything looked great but no traffic was coming in, when I took over a new domain with Comfusion, not only did I end up with a better and sleeker look I ended up with unbelievable traffic and climbed to the 2nd page on Google search in just a matter of weeks!

Zach Jones, Author of Chicago Gang History